Balancing the Natural Lipid Barrier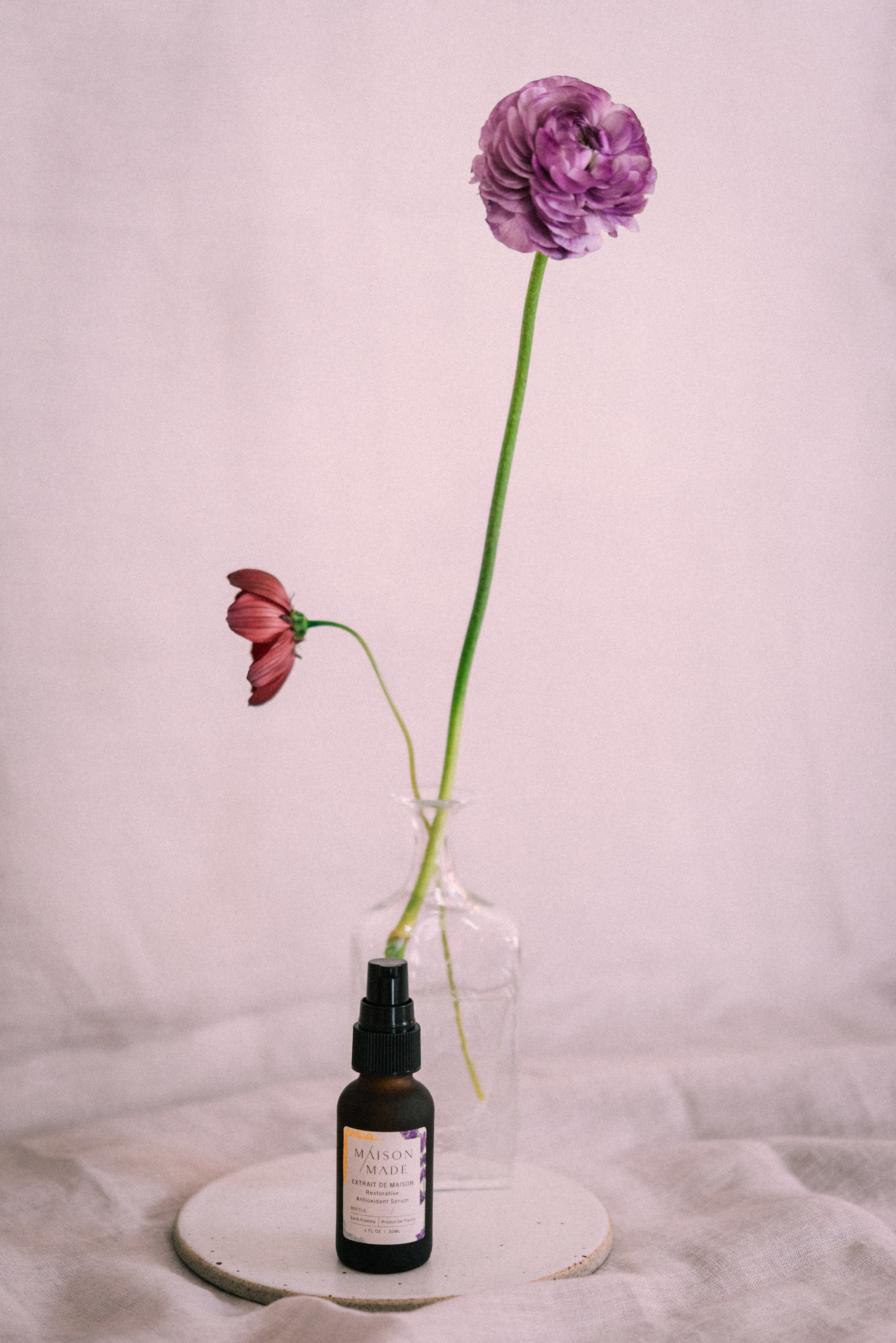 Fueling the Skin to be its Best
The Extrait de Maison is a fundamental skincare product. To start the Maison/Made line, I didn't want to create a product that targeted one specific ailment or deficiency (like hyper-pigmentation, rosacea, pimples, dryness, or any of the other skin "problems" that people have), but rather take the time to design a product that helps the skin no matter what it might be suffering from. This is done through the superior balancing powers of the Extrait to the Natural Lipid Barrier.
Based on this concept, the idea of a multitasking staple product, the formula needed to be more complex in order to offer this kind of performance. On top of this, it needed to have a good skin feel, good absorption, a goof color, a good smell (or, perhaps, an interesting, unusual one), and many other aspects that people expect from a high-performance luxury botanical facial serum.
It is always a good idea to have a product that fortifies this barrier because that will ultimately do what we mentioned above and thereby prevent inflammation from internal or external sources. If you have a good skin barrier function (a balanced epidermis) it can provide a glow to the skin from within. Applying the right botanical compounds is essentially like feeding the skin a high quality food. This is what people mean about when they talk about having dewy skin, it means the skin is balanced and happy. It doesn't come from simply putting on any product, it comes from putting on the right product that feeds the skin the sustenance it needs to perform at its peak capacity.
To achieve this, plant oils are some of the best allies. For a long time plant oils were seen as merely carrier oils, used as a solvent to carry and deliver essential oils, which are very concentrated substances, into the skin. Now its been shown that these plant oils have incredible benefits themselves. And these benefits essentially stem from a profile of fatty acids (and of unsaponifiables, but I leave that topic for another time).
When talking about these fatty acids, you want to have a good dose of the ones that take action on the skin, particularly the two main essential fatty acids: Linoleic and Alpha-Linolenic. The body cannot make these essential fatty acids (EFA's) itself through synthesizing other components, which means you need to introduce them into (or onto) the body in order for them to be present there. If you don't eat foods that have them, or put products that have them on your skin, your body won't have them. But because your body needs them they are called the ESSENTIAL fatty acids. Now, taking this one step further, when talking about the skin and its Lipid Barrier there is an ideal range: no more than 6:1, 6 parts Linoleic vs 1 part Alpha-Linolenic, where 3:1 or 1:1 is even better. And aside from balancing the barrier and strengthening it, these EFA's also have other effects like supporting the formation of ceramides, being rejuvenating, healing, and anti-inflammatory, softening the texture, and regulating the production of sebum (it's all connected). This makes the skin strong and when it is strong, it can endure more internal or external stresses. They also enable the skin to hold more water, to retain more moisture (ie avoiding Trans-Epidermal Water Loss, or "TEWL") thereby making the skin less dry.
Aside from the Essential Fatty Acids, of course you need the other fatty acids as well, its not as simple as thinking that all you need is these Omegas 6 and 3 (formulation is complicated and intricate!). These include Oleic Acid (who's production decreases as we age and not only is protective but also helps maintain suppleness and flexibility), Gamma Linoleic Acid (very anti-inflammatory and soothing), Palmitic and Palmitoleic acids (also important for balancing the barrier function, protecting the skin and being anti-microbial). Am I getting too technical?? There's many others. This plethora of fatty acids do many things like helping the penetration and absorption of other important compounds like fat-soluble Vitamin A, Vitamin E, K and D.
Formulating with all of these factors is challenging, but this is where I spent my time for the Extrait de Maison (and the other products coming out this year 😉). Putting together all the different fatty acids through the use of plant oils in the ratios that the skin needs to be balanced is a complex task, not to mention the other important factors that people look for in a luxury skincare product that I talked about before.
This is why the EdM is a full spectrum treatment for the skin, and what more could you want! It's straight up nutrition, fuel, for the skin to be, and perform, at its best!
xo,
Carolina
Sources:
• Kusmirek, J. (2002) - Liquid Sunshine
• Parker, S. M. (2014) - Power Of The Seed
• Price, L. (2008) - Carrier Oils for Aromatherapy and Massage
• https://www.ncbi.nlm.nih.gov/pubmed/22435414
• https://lpi.oregonstate.edu/mic/health-disease/skin-health/essential-fatty-acids
• https://www.ncbi.nlm.nih.gov/pubmed/15086775